Nepal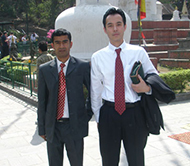 I suddenly received a mail from a Nepali guy in the summer of 2008 asking for help for the development of Nepal.
After exchanges of mails and field research in Nepal, I visited his village (called Khalchet village in Dhading District) during my second visit to Nepal in 2010 and invested in there about 40,000yen (USD400-). With that money the villagers bought 1,350kg of potato and plant them all over the village.
As a result they enjoyed a surprisingly big harvest of 21,340kg next year, sold the potato and increased income and donated some amount to the village school by themselves and introduced green houses for agriculture.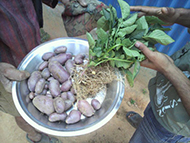 I visited around Nepal and invested in another village in Nuwakot District in 2012.
In 2014 we targeted individual villagers who are eager to start their own businesses using their skills. I met some villagers in Khalchet village and invested in them who are furniture makers, a tailor, goat farmers, etc.

I visited Khalchet village in October 2017 and the direction and vision of our project came quite clear for us. The furniture maker whom we invested to purchase a n engine to produce furniture has been extremely busy after the earthquake in 2015 since many villagers lost their furniture.
So he is visiting around houses in the village to make and repair furniture everyday and this is considered to be quite a success for us and we are very confident now that we need to provide those without skills with skill training.
In order to provide skill training with the villagers we need some fund to ask someone or companies who can actually train them with various different skills, so we decided to keep and breed goats and sell male goats in Kathmandu and with the profit we will provide skill training.
Therefore I invested 100,000 Nepali rupees (110,000yen, USD1,000) to buy 1 male goat and 3 female goats and we are targeting to increase the number up to 100 goats as the first stage. Now that the direction of our project has been set, I will keep investing to help them improve their skills.